April is Fair Housing Month!
Rolling through your day on autopilot? Just because it's second nature, doesn't mean it's right. Slow down and make sure you're providing equal service to all.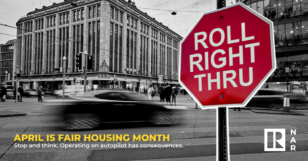 April 2021 marks 53 years since the Civil Rights Act was signed into law. National Association of REALTORS®' President Charles Oppler has issued a challenge to REALTOR® leaders to strengthen their committment to Fair Housing by completing the Fairhaven Fair Housing Simulation and Implicit Bias Training by April 9, 2021, and then earning the "At Home with Diversity" certification.
As champions of Fair Housing laws, NAR fights discrimination and promotes equality through several programs and initiatives.
Since 1998, more than 25,000 REALTORS® and association executives have completed the award-winning "At Home with Diversity" (AHWD) program. AHWD is an educational opportunity designed to present a picture of the changing face of the real estate industry to real estate brokers, agents, association executives, and anyone associated with the industry. The class teaches real estate professionals how they can increase their sensitivity and adaptability to future market trends. It addresses issues of diversity, fair housing, and cultural differences. Participants will learn practical skills and tools to expand business and effectively service all cultural groups.
Through GAR's Partners in Education program, two local boards in Georgia are offering the AHWD Certification course later this month. Please click on the dates and locations below to register.
April 27 – Fayette County Board of REALTORS® (in person)
April 28 – East Metro Board of REALTORS® (virtual)
Additionally, please click here to see the GAR Calendar and to view future opportunities to take the At Home with Diversity course.
Check yourself. Educate yourself. Hold yourself accountable. Because That's Who We R®.
Additional Resources: